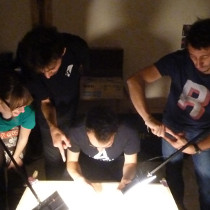 2015 will be full of surprises for Alternine!
Our new drummer Guillaume has made a thunderous arrival in the band, and we are really eager to show you how his energy revolutionize our music.
Add to this a return to amps and you will get a musical explosion you will never forget.
What's more, our first music video, on which we have spent several months of hard work, is finally finished and will be shown on Monday 23 February on internet! Stay tuned!